Los Angeles - One of the most eagerly awaited releases of 2015 by the AndersonPonty Band, featuring music icons Jon Anderson and Jean Luc Ponty, is scheduled to hit the streets early Fall 2015! "Better Late Than Never" is the new album taken from a live performance, and enhanced with innovative production. The package includes a bonus DVD featuring outstanding performances by the band captured in September 2014 at the Wheeler Opera House in Aspen, Colorado.
The AndersonPonty Band has created some breathtaking new musical compositions. "Better Late Than Never" also showcases rearrangements of classic YES hits like "Owner Of A Lonely Heart", "Roundabout" and "Wonderous Stories", as well as some of Jean Luc Ponty's beloved compositions, with Jon's lyrical vocals and melodies enhancing the music and creating a very special and unique sound such as "Infinite Mirage" a new song incorporating Jean Luc's classic tune "Mirage".
YES's original singer/songwriter for 35 years, Jon Anderson has had a successful solo career, which includes working with such notable music artists as Vangelis, Kitaro, and Milton Nascimento. International violin superstar Jean Luc Ponty is a pioneer and undisputed master of his instrument in the arena of jazz and rock. He is widely regarded as an innovator who has applied his unique visionary spin that has expanded the vocabulary of modern music. Together these two music legends have formed a musical synergy that is unparalleled!
"A breakthrough feeling came as I sang with Jean Luc's music, to be in a band again is very exciting on many levels, we will play and sing our way around the world and have fun, for music is pleasure, music is all that is." - Jon Anderson
"Collaborating with Jon who is such a creative singer/songwriter is unlike any project I have done before. I knew that we had plenty of musical affinities to make it work, but the result is way beyond my expectations. It is also a lot of fun to reunite with these excellent musicians who played with me in the past, they really put their heart in this project and with Jon's creative input we are not just rehashing the past but giving a new life to the music we started developing decades ago." - Jean Luc Ponty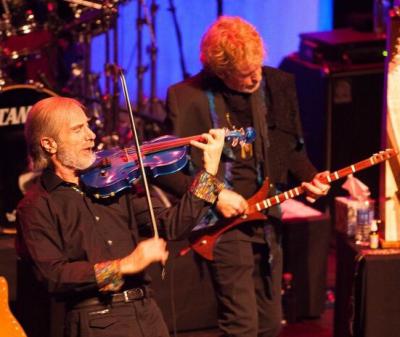 (Stage shot by Cathy Miller)
The AndersonPonty Band also includes Jamie Glaser on guitars - well known guitarist who has worked with Jean Luc Ponty, Chick Corea, Bryan Adams and Lenny White; Wally Minko on keyboards - virtuoso player and composer who has performed and recorded with many worldwide stars including Pink, Toni Braxton, Jean Luc Ponty, Tom Jones, Gregg Rolie and Barry Manilow; Baron Browne on bass who has played with Steve Smith, Billy Cobham and Jean Luc Ponty; and Rayford Griffin on drums and percussion, who has played with Stanley Clarke Band, George Duke, Jean Luc Ponty and Michael Jackson. The band visit the music created by Jon Anderson and Jean Luc Ponty over the years with new arrangements, virtuosic performances and new energy.
Jean Luc Ponty was originally approached by Jon Anderson with the idea of working together as far back as the 1980's. Now 30 years later the dream has finally come to fruition! In support of the new release, a world tour is currently in the works. Also, a videography documenting the making of the "Better Late Than Never" album will be released along with videos and performances.
AndersonPonty Band tour dates in USA/Canada: please visit the Concerts page.
AndersonPonty Band Facebook page: https://www.facebook.com/andersonpontyband1?fref=ts
Official AndersonPonty Band website: http://www.andersonpontyband1.com

In response to several questions about recordings, here is some basic information on music copyright issues. More detailed questions about any use of Jean-Luc's music should be submitted to this website.
Performing
Performing musical compositions already recorded is OK and legal, whether by professionals or non-professionals, as long as proper credit is mentioned, especially if performed for radio or TV.
Recording
Recording an existing composition requires a written authorization from the music publisher who administrates that composition on behalf of the writer/composer.
Usage
Using a recording (other than for personal enjoyment, i.e., not for commercial purposes and/or not shared by a form of mass media such as YouTube) requires an authorization from (1) the owner of the musical work (composer) represented by a music publishing company, and (2) the copyright owner of the recording itself, such as record labels like Warner, Sony, etc..
- JLP Management

Michel Warlop fut le tout premier grand violoniste de jazz en France, avant Stéphane Grappelli. Mort à 36 ans il fut malheureusement vite oublié. Pierre Guingamp a réparé cette injustice en écrivant un livre passionnant sur la vie de ce fabuleux violoniste, nous éclairant également sur les débuts du jazz en France. Ce livre intitulé "Michel Warlop (1911-1947) - Génie du violon swing" est publié par L'Harmattan avec une préface de Jean-Luc Ponty http://editions-harmattan.fr