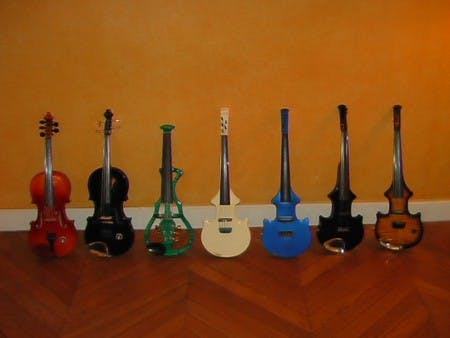 Above: JLP's collection of electric violins - From left to right: 5-string Barcus-Berry 1980/Barytone by Barcus-Berry 1969 / 6-string Violectra (UK) 1997 / white Zeta prototype 1984/ blue "Jazz" Zeta 1988/ black Zeta 1990/ "Jean Luc Ponty" Signature Series Zeta 2002
Violins
ZETA is active again, the "Jean Luc Ponty Signature" model is now available as well as Jazz Fusion models and more. Jean-Luc has played his new model on his recent tour with the Anderson Ponty Band and finds it better than the old one. The new website is www.zetaviolins.com
JLP also still plays his wood finish 5-string electro-acoustic violin with a low C string made for him by Barcus-Berry in California in 1980, as well as his blue 5-string model also made by Barcus-Berry in 1978, as seen on the cover of the album 'A Taste For Passion' from 1979. These are vintage instruments no longer in production.
For live acoustic formats JLP plays a 5-string model made in 2005 by Eric Aceto at Ithaca Strings that can also be played completely acoustic without using the pickup.
Violin Bow
JLP uses violin bows by Benoit Rolland made of composite material with a unique system allowing players to adjust the tension and balance of the stick according personal needs. JLP's favorite is a bow mounted with the new revolutionary Galliane frog which Benoit invented recently. Benoît is a very talented bow maker who lives in the Boston area www.benoitrolland.com.
Strings
JLP's violins are equipped with Helicore medium tension strings by D'Addario.
Preamps
JLP is using "PZ-Pre" preamp/D.I. by Radial Engineering Ltd. and also "Venue" by L.R.BAGGS.
Effects
For reverb, delay, chorus and all other effects JLP is using the amazing H9 MAX by Eventide, as well as Eventide plug ins for recording and mixing.
Home Studio Monitoring - Hi Fi - 5.1
"Triangle" asked Jean-Luc to test their new studio monitors "Genese Trio". It took him only a few seconds to hear their superiority in terms of true sound reproduction and richness of the harmonic spectrum, he immediately adopted them in his home recording studio. For more information visit www.triangle-fr.com.